Rewst releases 50 pre-built automations, helping MSPs realize immediate business value
Rewst, a Robotic Process Automation (RPA) platform for Managed Service Providers (MSPs), published 50 new pre-built automations, packaged as Crates, more than doubling the size of its Crate Marketplace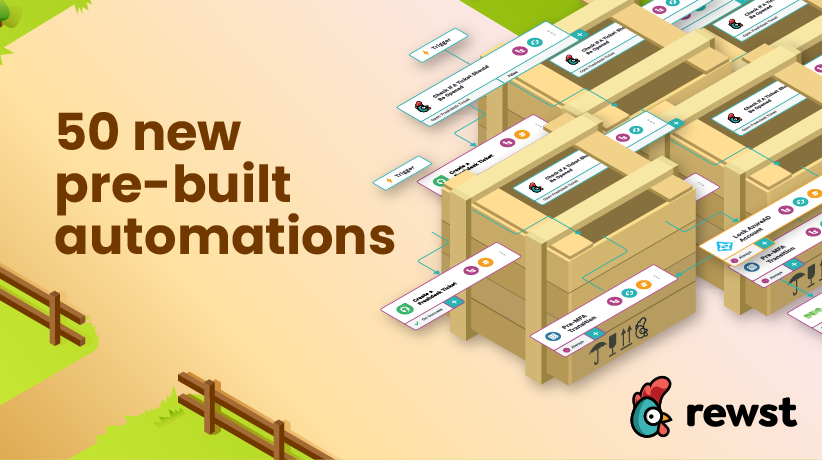 October 3, 2023
KASEYA DATTOCON, MIAMI, FL (October 3, 2023) –  Rewst, a Robotic Process Automation (RPA) platform for Managed Service Providers (MSPs), published 50 new pre-built automations, packaged as Crates, more than doubling the size of its Crate Marketplace. Bundling all the components required to run specific automations, Crates can be configured and implemented quickly, enabling MSPs to unlock immediate value from Rewst.
Built and maintained by Rewst's Robotic Operations Center (ROC), Crates are ready-to-use automations that address common use cases, such as user onboarding/offboarding, just-in-time admin access, AI-based ticket categorization, and more. Crates use Rewst's integrations with 40+ MSP tools and include all the necessary components (e.g., forms, triggers, templates, scripts) to run specific workflows. Because they can be installed by following human-readable prompts, Crates enable new customers to realize value out of the gate, while they complete onboarding and training.
The 50 new Crates automate workflows across key areas of MSPs' tech stack, including:  
Microsoft 365 – Identify all disabled users in Microsoft 365 and remove them from the Global Address List (GAL); enable/disable mailbox forwarding while maintaining a comprehensive audit log in your PSA; and identify Application Registrations with expiring certificates and log tickets for remedial action.
RMM – List all devices in your RMM, perform a software audit, and report potential issues back to your PSA for manual intervention; match newly installed devices in ConnectWise Automate and move it to the correct client site; and restart agents showing as offline in ConnectWise Automate or Control but online in the other.
PSA – Tag tickets with the user's device, pulled from the "Last Logged In" field in your PSA; process user form submissions for password resets and ensure seamless ticket documentation; and select multiple users and move them to the desired Organizational Units (OUs) directly from a PSA ticket.
Documentation – Capture and store Rewst Org Variables in a flexible asset, ensuring an immutable audit log; create a contact in ITGlue with an associated password whenever a new user is added to your system; and track key metrics for M365-enabled organizations (e.g., active users, guest accounts, licenses, privileged groups, etc.).
Security – Match devices from SentinelOne tickets to their corresponding companies in ConnectWise Manage; check the compliance of audit logs and mailbox configurations against specific CIS controls and log a ticket for record-keeping and potential remediation; and reset the MFA method for a specified user and update the ticket.
"This influx of 50 Crates benefits both new and existing Rewst customers," said Aharon Chernin, CEO of Rewst. "The MSPs who realize the greatest ROI from Rewst take advantage of pre-built automations, while also dedicating internal resources to building their own workflows. Customers that take this approach are saving upwards of 8,000 hours per month with automation."
See Rewst in action at Kaseya DattoCon 
Rewst unveiled the 50 Crates at Kaseya DattoCon. Many of them integrate with Datto RMM, Autotask PSA, Kaseya BMS, Kaseya VSA, and ITGlue to automate end-to-end processes.
Visit booth #3 to learn more about these Crates and how Rewst automates repetitive, manual processes. In addition, catch Aharon's session, "Automate to Elevate: Building an MSP Culture of Success," on October 3rd at 5:45pm ET.
About Rewst 
Founded in 2020 and based in Tampa, FL, Rewst specializes in providing a purpose-built Robotic Process Automation (RPA) platform for Managed Service Providers. With a leadership team that has a proven track record of understanding and anticipating the needs of their customers, Rewst is well-positioned to drive the next evolution of RPA and empower MSPs to improve operational efficiency, service delivery, and customer satisfaction. Visit Rewst at rewst.io and follow the company on LinkedIn and YouTube.
Media Contact:  
Ed Hadley, SVP Marketing 
ed.hadley@rewst.io

Latest Blog Posts
Subscribe to Our Blog
Stay up to date with the latest on our platform, automation, events and news.
We're committed to your privacy. Rewst uses the information you provide to us to contact you about our relevant content, products, and services. You may unsubscribe from these communications at any time.